Steve O'Hea, Tech Crunch, 1/21/15
Yahoo! News, 1/16/15
Most Americans still don't worry about malware on their mobile devices. But the halcyon days of Android innocence are fast coming to a close, according to a new report by San Francisco-based mobile-security-software developer Lookout, Inc.
Android malware has grown smarter and more prevalent in the past year, Lookout found, and as a result, 7 percent of Android device owners in the United States encountered malware in 2014. That's a 75 percent increase from the 4-percent encounter rate of 2013.
Ransomware, in particular, stole the show in 2014. It grew "by leaps and bounds," according to Lookout's Mobile Threat Report. Ransomware locks users out of their own devices unless a ransom — usually in Bitcoin — is paid to the ransomware operators' accounts.
Just like big-framed glasses or neon clothing, ransomware first appeared in the 1980s, but has seen a resurgence in the past couple of years, on Android as well as PC and Mac. Lookout attributes the 75 percent uptick in Android malware largely to the widespread success of mobile ransomware campaigns such as ScarePakage, ScareMeNot, ColdBrother, and Koler.

Not content with simply bringing back old fashions, cybercriminals and other malware developers also got creative in 2014, the report warned.
"In 2014 Lookout observed," it said, "one of the first instances of attackers attempting to use compromised mobile devices for cryptocurrency mining — a novel, if ultimately unprofitable, scheme."
Lookout also looked at adware, defined as software that disseminates interruptive ads or ads that collect too much personal information, and chargeware, defined as software that tricks people into signing up for paid subscriptions or performing actions that have a fee attached.
Chargeware is much more prevalent in Europe than the U.S. — in 2014, the encounter rate for chargeware was 9 percent in France, and 11 percent in the United Kingdom, but just 4 percent on this side of the pond.
The French and British numbers represent a decrease from 2013, but Germany saw an increase in chargeware in 2014, from 2 percent to 7 percent. Largely to blame for this uptick is the successful SMSCapers campaign, in which victims downloaded pornographic apps that had unclear prices attached to them. 
But it's not all bad news: Lookout found that mobile adware decreased sharply in 2014, making it no longer the most prevalent mobile threat. Lookout credits Google with this decrease: In late 2013, Google tightened up its Google Play app store policies, strictly limiting adware in apps disseminated through the store.
Lookout compiled its 2014 Mobile Threat Report from analysis of its own software users, who number more than 60 million worldwide.
Jennifer LeClaire, Mobile Tech Today, 1/15/15
Desktop virtualization firm Citrix is getting off to a fast start in 2015. After acquiring virtualized storage player Sanbolic on Monday, the company is moving ahead with a new release of its XenMobile enterprise mobility management (EMM) solution.
With XenMobile 10, Citrix makes promises on both sides of the mobility fence. The new release works to optimize the experience for end users while automating deployment and management processes for IT admins. Citrix' acquisition of Sanbolic is aimed at making enterprise data and workloads "highly available and elastic based on changing business demands."
The design of XenMobile 10 has been improved to facilitate streamlined workflows in its suite of integrated mobile productivity apps. The idea is to provide a strong business experience for mobile device users. Citrix is betting IT teams will appreciate the unified EMM platform that makes it easier to deploy and manage mobile apps, data and devices with security and scalability to accommodate growing mobile workforces.
"Citrix delivers a powerful EMM solution, and we are looking forward to rolling out the new release," said Jesper Blomqvist Rydstrom, head of workplace, defense and security company Saab. "The simplified architecture in XenMobile provides a streamlined experience for IT, enabling us to scale and manage a growing mobile workforce in an efficient and highly secure manner, while preserving end user experience."
Strategic Integrations
Chris Marsh, principal analyst of Enterprise Mobile App Strategies at 451 Research, said Citrix is going beyond having just a comprehensive EMM solution with XenMobile 10.
"Through integrations of its Worx apps and ShareFile service for example, it is able to deliver strong mobile user experiences, which will appeal to companies wanting to invest in mobility to drive greater worker productivity without introducing disparate and fragmented sets of technologies that they might otherwise have to deal with," Marsh said. "With these kinds of innovations, Citrix is one of now only a handful of vendors leading the pack as consolidation begins to force out the long tail of EMM players."
The integration between WorxNotes and Microsoft Exchange makes possible the syncing of Outlook Notes on desktops with WorxNotes on the mobile devices. That lets mobile users keep all their notes in one place for storage and retrieval from any desktop or mobile device anytime, anywhere.
The WorxNotes and ShareFile integration creates a workflow for secure document capture and storage. For example, the WorxNotes app lets create notes from text, audio and images or videos captured by a device's camera and automatically syncs them to ShareFile.
Security-Driven Scalability
The XenMobile 10 release is certainly timely. Citrix's research shows enterprise mobility initiatives have become a fundamental way of supporting workforce productivity, increasing business agility.
As mobile growth continues, the company has discovered that enterprises need a scalable and flexible infrastructure to manage and support a growing number of mobile devices and applications. At the same time, there is immense pressure on IT to provide security-driven access to apps and data on any mobile device without sacrificing a familiar user experience, according to Citrix.
"The first thing I noticed was how clean the GUI was in the new XenMobile release," said Scott Solomon, a field technical consultant for Ingram Micro. "It is very simple and easy to navigate. Overall, I think this version is a huge leap forward to an already fantastic product. I expect this will accelerate adoption rate due to its simplicity and ease of deployment."
The new XenMobile client is available for XenMobile customers to download. The server enhancements will be available in the first quarter of 2015.
Business Insider, 1/15/15
Samsung on Wednesday launched its first smartphone using its home-grown Tizen operating system, aimed at breaking the South Korean electronics giant's dependence on Google's Android.
The Samsung Z1, which has 3G capability and a liquid-crystal display, was launched in India with a price tag of 5,700 rupees ($90), the world's largest smartphone maker said in a statement.
The Tizen operating system is a key part of Samsung's campaign to carve out a niche in mobile software and services, to complement its dominant hardware role.
The Samsung Z, which was specially developed by Samsung to run on the Tizen platform, had initially been earmarked for launch in Russia in the second half of last year.
But the launch was pushed back in order to "further enhance the Tizen ecosystem", the company said at the time.
It was the latest in a series of delays for the Tizen rollout, which had originally been scheduled for 2012.
The vast majority of Samsung's popular devices, including its flagship Galaxy S smartphones, use the Android operating system.
Samsung has touted Tizen as a platform not just for phones, but for a range of connected devices from home appliances to door locks and watches which could communicate with one another in the future.
The company unveiled its first-ever Tizen smart TVs at a consumer electronics fair in Las Vegas earlier this month.
Tizen is a lightweight platform and the SZ is a slimmed down, relatively inexpensive device with a simple user interface and a focus on basic functions like phone calls and messaging.
In a nod to the power of the Indian entertainment market, the phone comes with free access — for a three-month period — to a wide range of Bollywood movies, TV shows and music.
Jillian D'Onfro, Business Insider, 1/8/15
The new browser Microsoft is reportedly working on will have a mode to make it easier to read long articles, Neowin's Brad Sams reports based on leaked screenshots.
The new browser, code-named "Spartan," will be more like Chrome or Firefox than Microsoft's current browsers Internet Explorer, and will be optimized for Windows 10 on desktop and mobile.
Sams reports the browser will have a "reading mode" button that "strips out the text of an article and makes it easier to read the content on a page."
The feature would be particularly useful when you're reading a longer article on a smaller screen, like a tablet or cell phone, and could help reduce the data needed to load pictures or videos.
A similar feature is available in Internet Explorer for Windows 8.1, but only works on that operating system, which hasn't gotten much traction. Apple's Safari browser for iOS also has a reading mode that works similarly.
Besides the "reading mode" button, Spartan looks pretty standard, but you can check out the images over at Neowin.
Chris Velazco, Engadget, 1/8/15
BlackBerry's been doing its best to engineer a smartphone comeback, but its future doesn't just hinge on stuff that goes in your pockets. Those plucky Canadians have also had their sights on cracking the fabled internet of things, and today it's finally pulled back the curtain on a cloud-friendly system meant to do just that.
Haven't been paying attention to the internet of things lately? Long story short, it's an industry movement that aims to link smart devices and sensor-laden gewgaws into a network of sorts so you — the all-powerful user — benefit from how they connect. Wear a Fitbit? Own an Aria scale? The health data from those gadgets combine on your phone to provide a more accurate picture of your health than any one measurement alone. Welcome to the future. Anyway, BlackBerry's deal is notable in that in draws on two of its bread-and-butter businesses: It's essentially meant to combine the QNX operating system that forms the foundation of BlackBerry 10 and the secure networks that have made BlackBerry devices the darlings of the government and intelligence communities. Not a bad pedigree, no?
Not surprisingly, it could be a while before BlackBerry makes a play to connect your home (if it ever does at all). The company says its primary focus for now is to build deeper inroads in the "automotive and asset-tracking industries." The QNX software BlackBerry acquired really found its footing inside car entertainment systems, and it'll face plenty of stiff competition in the form of new automotive efforts from companies like Google. And asset tracking? That's BlackBerry pandering to its enterprise and business-to-business roots — a savvy move, but not always the most interesting to write about. BlackBerry is, naturally, not the only mobility maven itching to link the world's gadgets together. Samsung acquired connected home tech maker SmartThings in mid-2014, a deal that reportedly cost the Korean tech giant $200 million — relative chump change when you think about how badly Samsung wants to own every facet of your home.
TreyWilliams, MaretWatch, 1/8/15
There was movement in the smartphone market in the months following Apple Inc.'s September release of the iPhone 6 and iPhone 6 Plus—Android's share of the operating system market fell for the first time since 2013.
Android—Google's GOOGL, -0.29%  mobile phone operating system—dropped 2 percentage points in the U.S. for the 3-month period ending November, while Apple's AAPL, +1.15%  iOS gained 4.3 percentage points, according to research from Kantar Worldpanel ComTech.
Android also saw a 3% dip in its share in Britain, Germany, France, Italy and Spain. It it slid 6.7 percentage points in the United Kingdom, which includes Northern Ireland. The Google-run operating system still dominates the smartphone market globally, however.
Carolina Milanesi, chief of research and head of U.S. business at Kantar Worldpanel ComTech, said that with Android's wide range of vendors, it is hard to think that it will lose its leading position any time soon. Unlike Apple, Google licenses its operating system to other phone makers.
"Apple will never dominate the smartphone market in terms of volume," Milanesi said via email. "They are one company versus many, and they play in a selected price point while competing with vendors that have much lower prices."
While Apple may never dethrone Android, Kantar Worldpanel ComTech's Insight Director Dominic Sunnebo is expecting the company to gain more ground in the future.
"The longer the new iPhone models (6 and 6 Plus) are on the market, the more their appeal will extend beyond Apple's loyal customers," Sunnebo said in a statement.
Apple's first weekend iPhone 6 and iPhone 6 Plus sales set a record for the tech giants, topping 10 million units. According to Kantar, the number of people switching from Android to Apple's iOS has remained steady at 18%.
Milanesi said there is always some churn within the market for operating systems, but noted that when Apple changes the actual design of its phone, there is a bigger shift away from Android.
"The time is particularly interesting for Apple as Android's biggest force—Samsung—doesn't have as strong of a portfolio as it has in the past couple of years," said Milanesi.
Chris Smith, BGR, 1/7/15
Even though it has a large 7-inch display that's usually seen on tablets, the Boss is actually a dual-SIM Android smartphone that comes with Tor privacy-enhancing features. Announced at CES 2015, the Boss phone is currently seeking funding on Indiegogo, aiming to reach its $150,000 goal by March 2nd.
The Boss phone offers a 7-inch display with 1920 x 1200 resolution, Mediatek octa-core processor, 16GB storage, microSD support, 8-megapixel camera, 2-megapixel front-facing camera,  global 4G LTE and 3G support, 3,000mAh and Android 5.0 Lollipop.
The Boss phone's most interesting feature seems to be the included Tor functionality, with the company saying that Boss is the first phone to be built from the root level with Tor inclusion, and thus capable of offering increased security.
"The Boss phone will have rooted Tor encryption for your privacy," the company says on Indiegogo.
The Boss phone's price on Indiegogo starts at $275 (for the "first responders"), going all the way up to $355. Assuming the campaign is funded, the Boss phones should be shipped at some point in October 2015.
Simon Sharwood, The Register, 12/24/14
Microsoft has revealed a new batch of data about Windows Phone's fortunes, and it seems Redmond's mobile efforts are doing best at the low end of the market.
The good news is that Windows Phone 8.1 is now accounting for 65 per cent of Windows Phone app downloads, with Windows Phone 7 at under five per cent.
The most popular Windows Phone device is the low-end Lumia 520, which accounts for more than a quarter of all app downloads. Devices with less than 256MB of RAM dominate downloads with 71 per cent of the total, suggesting Windows Phone's most active users are using cheaper handsets.
That's not necessarily a bad thing because Microsoft, along with all other mobe-makers, is chasing "the next billion" folks to come online. Those people will likely hit the internet with a smartphone rather than PC, so wining business in that segment is seen as a good thing for a platform's long-term future.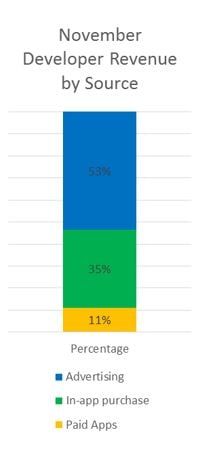 Microsoft thinks its ducks are in a row in its pursuit of those billion, as it last week announced carrier billing for apps and in-app purchases in China and Brazil, to bring the total number of nations where it can do so to 46. That's an impressive total because citizens of both nations do not enjoy the same access to credit cards as folks in more-developed nations. A single bill for carriage and apps, issued by a carrier, is therefore seen as more likely to get people in developing nations buying apps.
Redmond reckons it covers 46 per cent of the world's mobile subscribers with carrier billing, putting it in the box seat for app-derived revenue.
But elsewhere in the data dump Microsoft reveals apps aren't the main game because, as the graph below shows, developers are making more from embedding ads in Windows Phone apps than they are from either the apps themselves or from in-app purchases.
Microsoft's recommendation for developers is to make sure their wares run on low-memory devices and are translated into lots of languages. Today, about a quarter of sales are for English apps, but adding Spanish, Mandarin, Brazilian Portuguese and Russian gives developers access to a little more than another 25 per cent more of the world's mobile population. But Microsoft thinks there's another 25 or so per cent of customers to be had in a group of languages dubbed "other" that aren't any of those mentioned above, French, Italian, German, Hindi or Cantonese. ®